Bond market returns
Greece returns to bond market, but don't sound the all-clear signal
May 23, 2021 – 10:35 am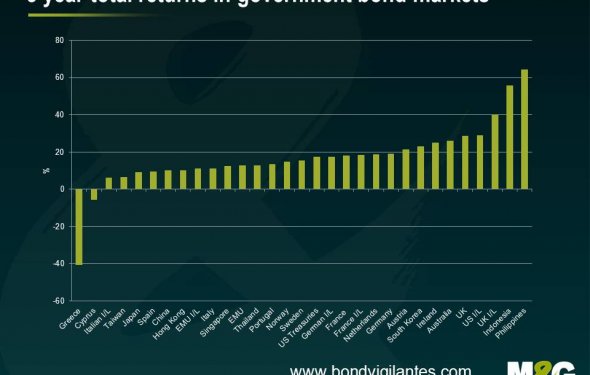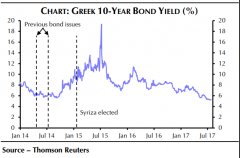 Welcome back, Greece.
The long-suffering country on Tuesday returned to bond market for the first time since 2014, pricing 3 billion euros ($3.5 billion) of new five-year bonds at a yield of 4.625% and attracting more than €6.5 billion in orders, news reports said.
That looks like a success, with the yield below the 4.9% initial yield the country's last foray into the bond market produced in July 2014. Yields fall as bond prices rise.
Greece was rewarded with lower borrowing costs after coming to terms with its creditors—fellow eurozone countries, the International Monetary Fund, and the European Central Bank—earlier this month, in a deal that allows its current bailout to continue. Greece won praise for its fiscal reforms and painful austerity measures as well as signs an economic recovery is finally starting to take root, noted Jennifer McKeown, economist at Capital Economics, in a note.
It comes as overall sentiment toward the eurozone economy is solidly on the upswing. The Ifo index, a closely watched gauge of German business sentiment, hit an all-time high in July, the Ifo Institute said Tuesday.
The successful Greek auction and solid eurozone data combined to help propel the euro EURUSD, +0.1791% temporarily above $1.17 versus the dollar for the first time since 2015.
But that doesn't mean investors can assume Greece's long-running crisis is over, McKeown said.
After all, Greece has been here before. After issuing debt in April and July 2014, the country soon lost market access following the antiausterity Syriza party's election victory. She points out in the chart below that after 10-year yields fell to 5.6% that summer, they surged to nearly 20% within a year as Syriza held a referendum on Greece's bailout terms.
In that July 2015 referendum, Greek voters overwhelmingly rejected creditor demands for more austerity, only for Greek Prime Minister Alexis Tsipras to agree to those demands seven days later.
No such drama appears in store now, McKeown said, with Syriza having largely caved in already to creditor demands and the economy having returned to growth in the first quarter. But the government's slumping approval ratings are a cause for concern, she said, noting that the New Democracy party, which is leading in the polls, is calling on Syriza to relinquish power.
She writes:
If ND was back at the helm, it claims that it would push for lower primary surplus targets than those underpinning the current deal with creditors. Banks are in a very precarious state, with deposits yet to return and non-performing loans a serious burden. And crucially, the public debt mountain remains huge, at about 180% of GDP. The Greek government might therefore struggle to finance itself even at current market borrowing costs, which remain significantly higher than the average of 1.5% interest that it now pays on its largely officially-held debt. Unless euro-zone creditors agree to much deeper debt relief than that which is now on the table, it seems fairly likely that Greece will require a fourth bailout when the current one expires next August.
Source: www.marketwatch.com
Related Posts